NIMBY Fifty 2015 - Race Wrap-Up
Posted on June 03, 2015
Riders hit the first climb of the day, one of the few non-single-track portions of the NIMBY Fifty course. The dust storm they left behind was epic. Photo: Tanya De Leeuw
Clear skies, high temperatures and the majestic slopes of Mount Currie greeted riders as they arrived at North Arm Farm to pick-up their race plates, fill water bottles, and line-up in anticipation of the start to the 2015 NIMBY Fifty this past Saturday May 30th in Pemberton, BC.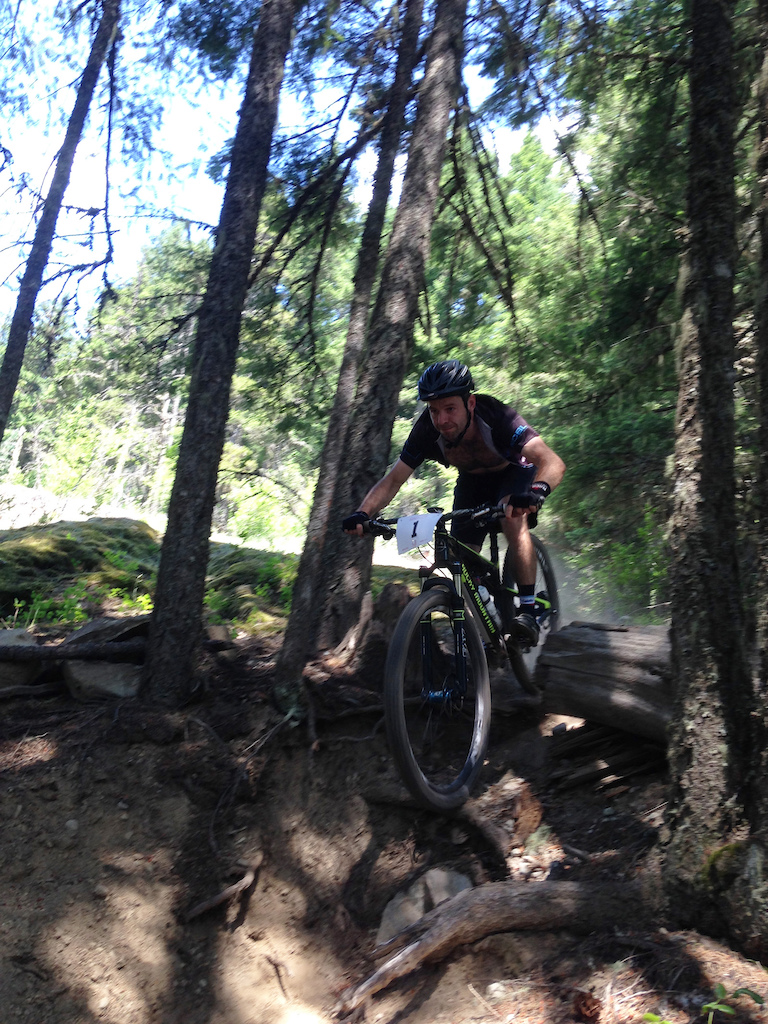 Ricky Federau dropping into Overnight Sensation en route to his first NIMBY Fifty victory.
On the day, course conditions were about as tough as they get - super dry and dusty. The Pemberton Valley received a total of 4mm of rain during the normally wet month of May. As a result, steep descents and punchy climbs throughout the gruelling course gave riders an added challenge - drifty corners, loose chutes and less than ideal traction for grinding it up the many steep grades.
This did not stop the nearly 400 mountain bikers who straddled their trusty steeds, awaiting Brett Tippie's bellowing count down to kick-off the legendary race.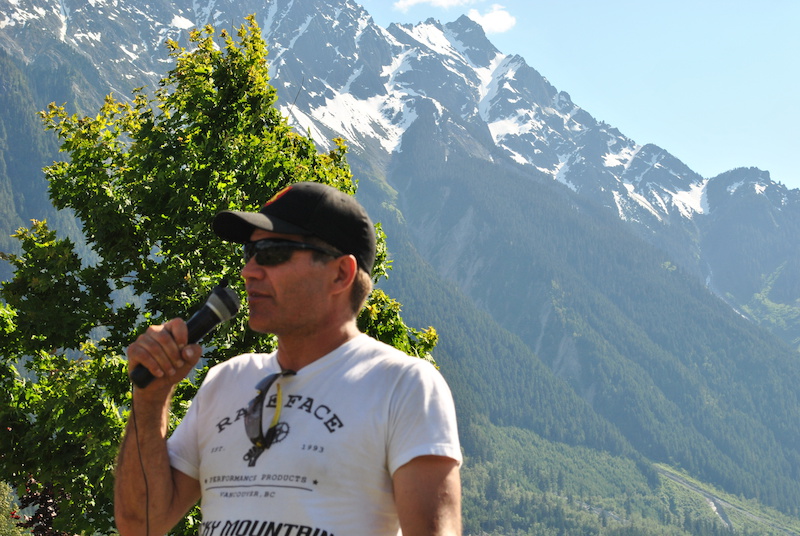 If Brett Tippie's looking serious, then things must be getting serious.
Every year, since 2010, three local Pemberton Dads, who love riding and racing bikes, put their regular lives on hold to host the NIMBY Fifty. Months and weeks of planning go by in a flash once the start gun goes off and the fat tyre peloton makes its way down the highway to the first climb of the course.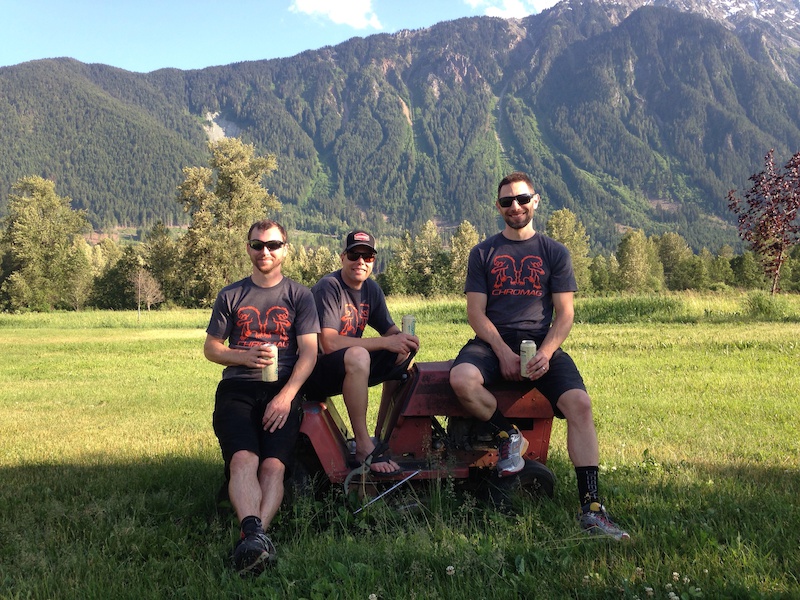 These guys love riding bikes, drinking beer, and dishing out the pain at the NIMBY Fifty - (from left to right) Russ Wood, Dean Linnell, Terry Evans
And off they went... At the pointy end of the peloton, the pace was fast and furious. Racers jockeyed for position before the first Prime, heading into the day's first single track literally leaving riders behind in a huge cloud of dust. At this point, riders were gasping for fresh air. Yet, oxygen seemed in short supply amid the dust, oxygen needed to fuel one's already burning legs a mere 8 minutes into the 37 km course.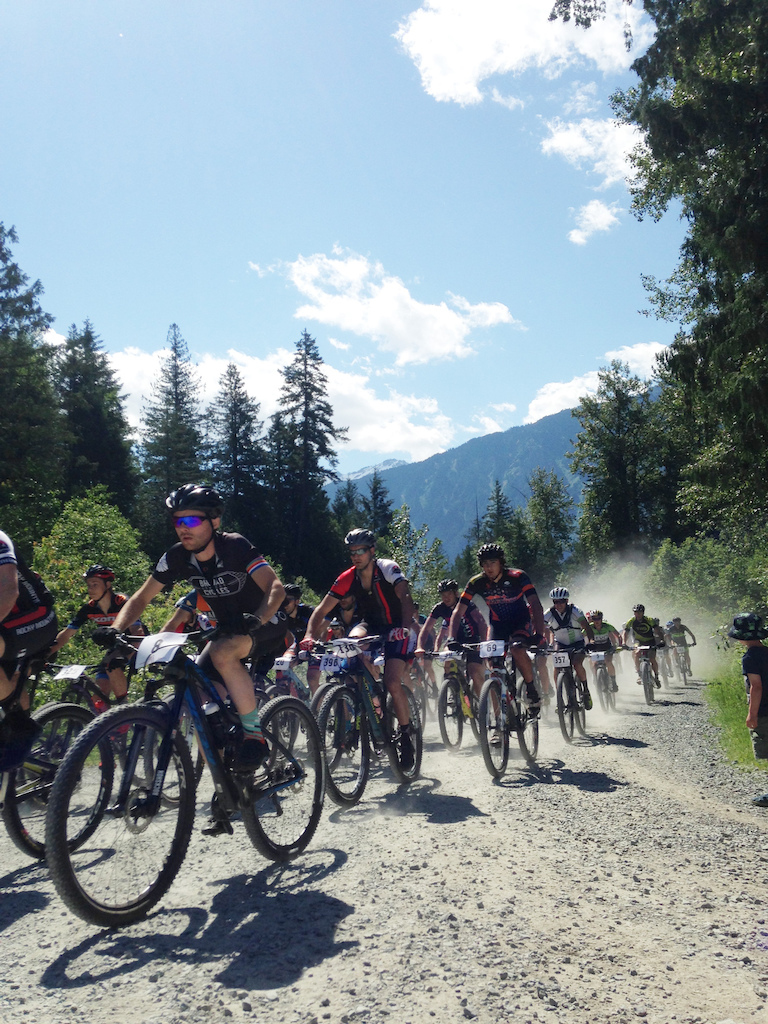 Riders jockey for position on the first climb of the day.
On the men's side, the first Prime was snapped up by Squamish local and former pro roadie, Jamie Sparling, who later had to pull out of the race due to muscle spasms, conceding his Prime to eventual race winner Ricky Federau. Federau took the lead early on in the first bit of single track and held it the entire race.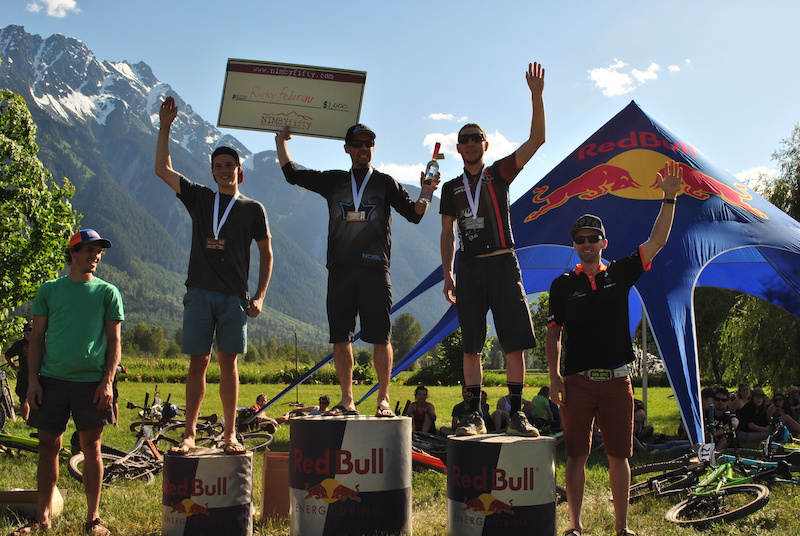 NIMBY Fifty 2015 Pro Men's Podium - (from left to right) Sean Babcock (5th), Ryhs Verner (3rd), Ricky Federau (1st), Quinn Moberg (3rd), Peter Watson (4th)
Federau continued to extend his lead, particularly on the descents, against the young guns Quinn Moberg and Rhys Verner, who battled one another as they chased the veteran racer along the course. Federau has consistently placed third in NIMBY Fifty for the last three years, and was absolutely thrilled to finally take the win in a time of 2:15:28. In a sprint finish, second place went to Moberg (2:19:28.4) while 17 year old junior racer Rhys Verner took third (2:19:28.7). Rounding out the podium was Peter Watson in fourth (2:19:29) and Sean Babcock (2:21:00) in fifth.
With his shirt fully unzipped, chest hair and baggy shorts flapping in the wind, and no riders or dust clouds in front of him, Federau was 18 seconds shy of a victory in the Enduro segment of the NIMBY Fifty - Red Bull Downtime.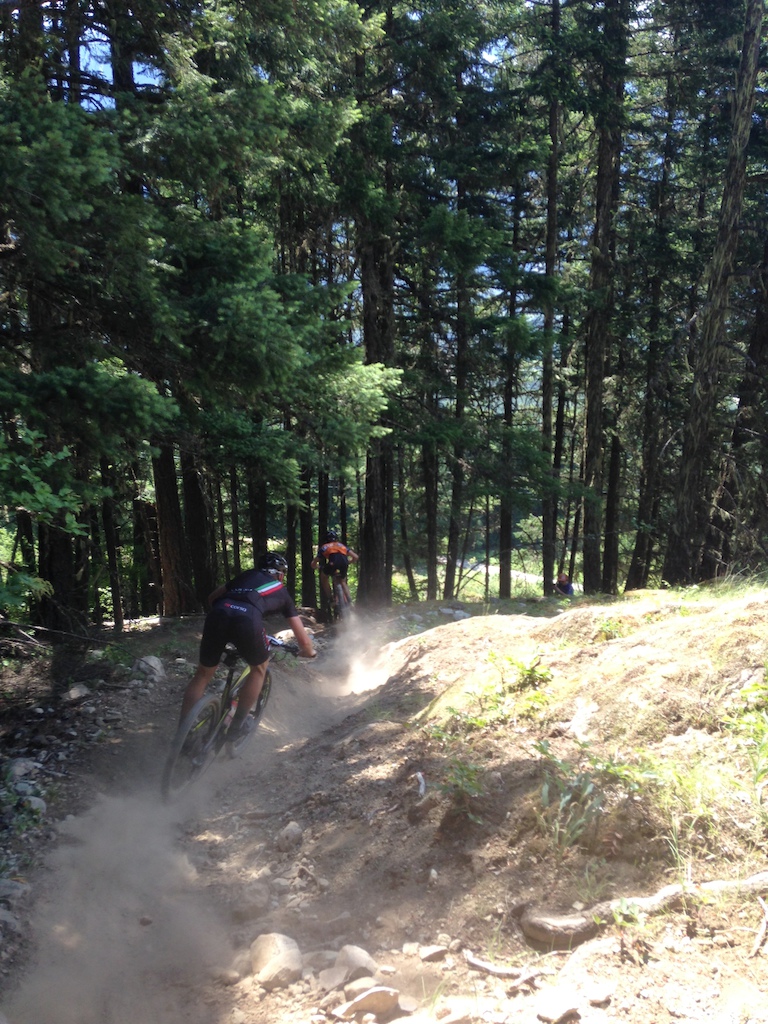 Colin Kerr about to pass a rider on his way to Red Bull Downtime victory.
Despite having to deal with rider traffic and dust on his way down, the man who won the very first NIMBY Fifty back in 2010, Colin Kerr, crushed the descent down Overnight Sensation in a blistering 6:00 even to take the Downtime win. While local ripper and BikeCo mechanic, Seb Wild, took home first place in the Chromag sponsored Downtime Hard Tail category. Seb's smokin' fast run aboard his Chromag Surface 29er was actually good enough for 6th place overall in the Downtime.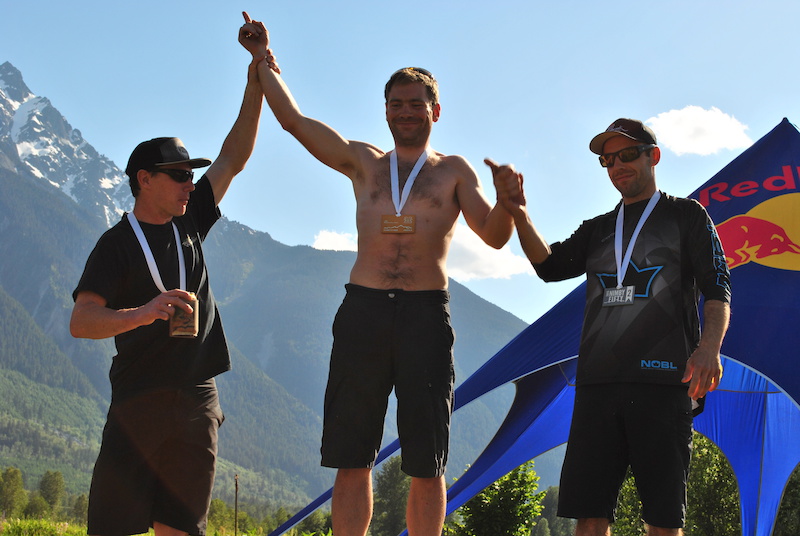 NIMBY Fifty 2015 Red Bull Downtime Men's Podium - (from left to right) Mike Boehm (3rd), Colin Kerr (1st), Ricky Federau (2nd)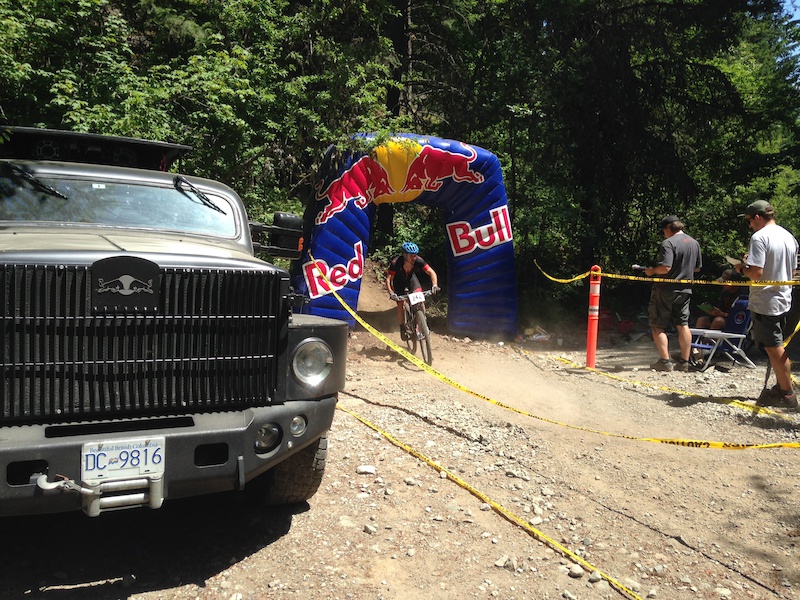 A rider passes through the Red Bull arches at the bottom of Overnight Sensation in Pemberton, BC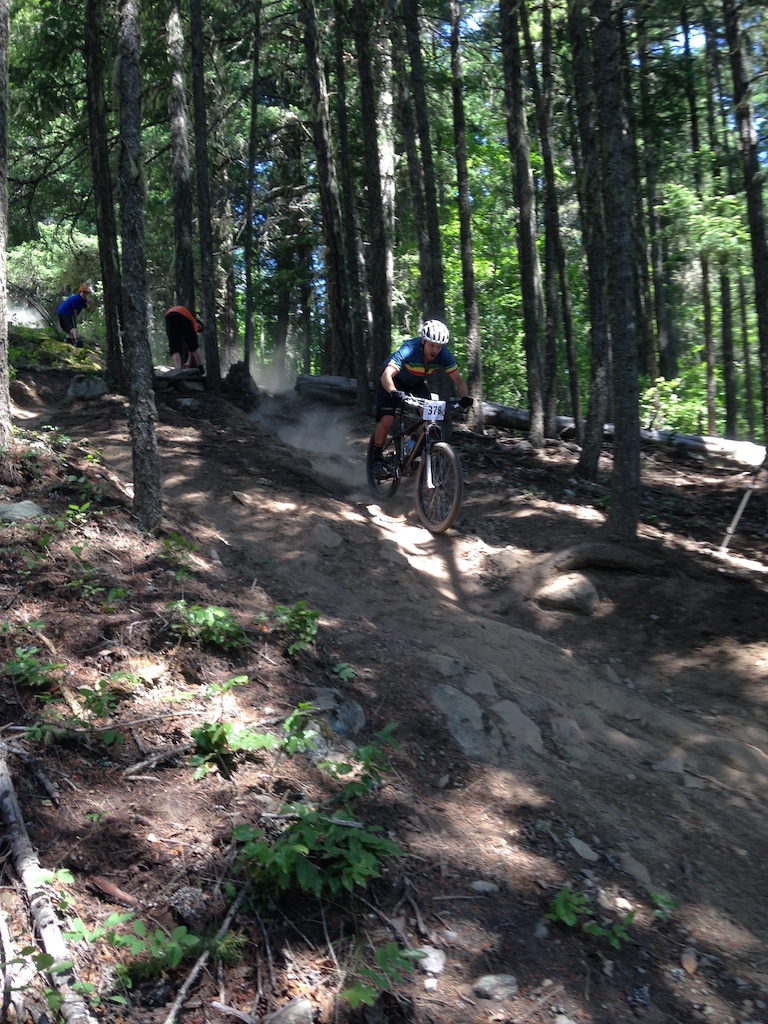 Whistler's Todd Hellinga charging down Overnight Sensation, while local groms look on from above.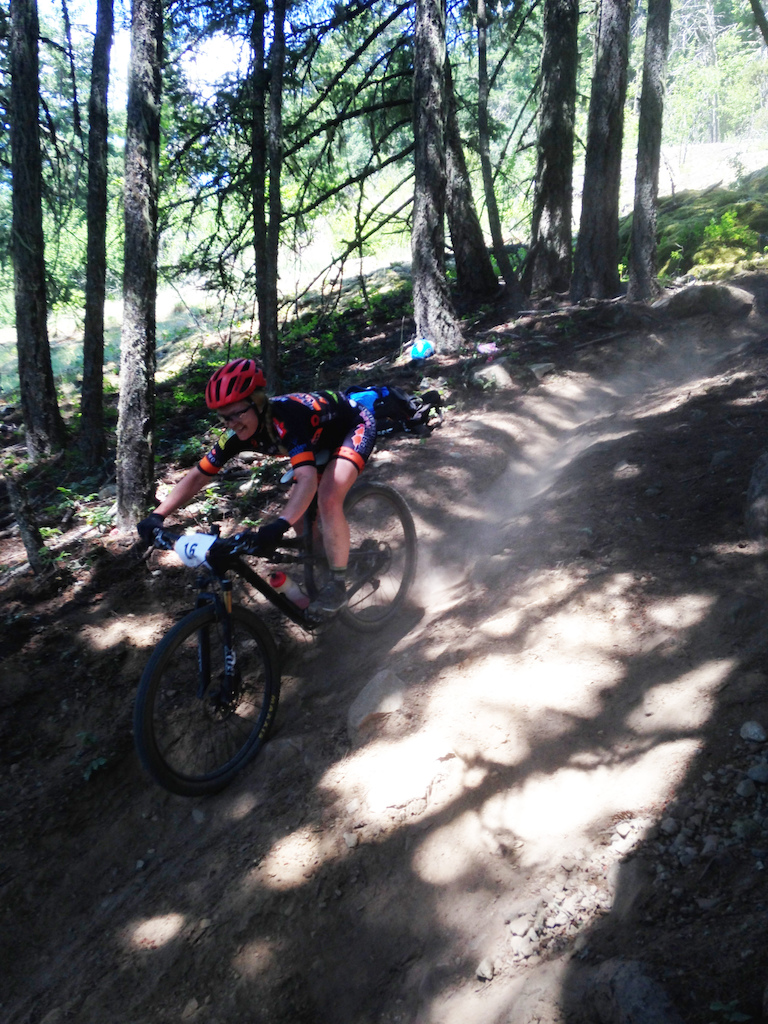 Leah Trudea, on her way to 4th place overall, and all smiles as she navigates her way down one of the nastier chutes on the course.
On the women's side things kicked off with a sprint for the first Prime by another Squamish local - school teacher and mother of two, Brandi Heisterman. However, by the time the women arrived at the bottom of Happy Trail, which marks the beginning of the long climb up to the Paraglide Launch (top of Big NIMBY climb), a young lady out of Kelowna, BC - named Stacey Smith, had taken the lead and never looked back. Smith snapped up the win in a commanding time of 2:47.42. Hot on her heels was XC/Enduro all-star Amanda Sin with a time of 2:48:45, followed by Heisterman in a time of 2:50:30. In her first NIMBY Fifty podium appearance, local nurse Leah Trudeau finished in 2:55:18 followed closely by Jean Ann Berkenpas in 2:57:45.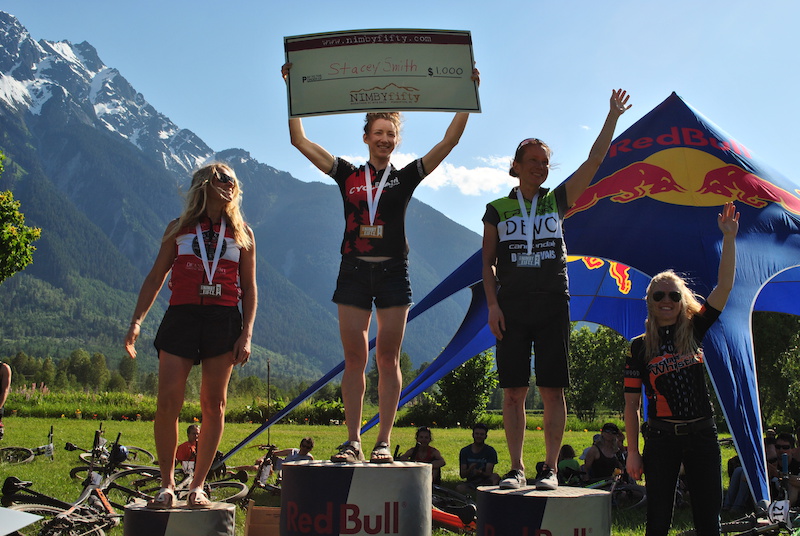 NIMBY Fifty 2015 Pro Women's Podium (from left to right) Brandi Heisterman (3rd), Stacey Smith (1st), Amanda Sin (2nd), Leah Trudeau (4th), Jean Ann Berkenpas (5th) (missing from photo)
In the Red Bull Downtime, Pemberton local Sylvie Allen of Sweet Skills Coaching, took the win in a time of 7:33.8, nearly 30 seconds over her nearest competitor, Amanda Sin.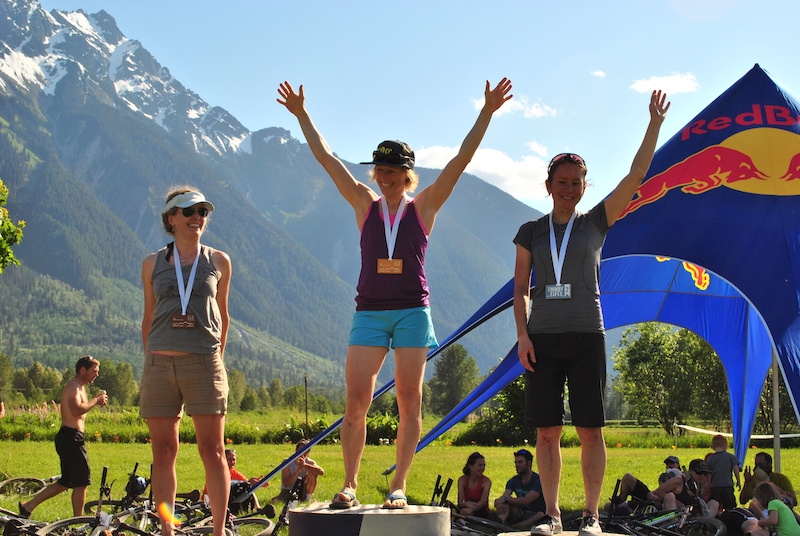 NIMBY Fifty 2015 Red Bull Downtime Women's Podium - (from left to right) Carys Evans (3rd), Sylvie Allen (1st), Amanda Sin (2nd)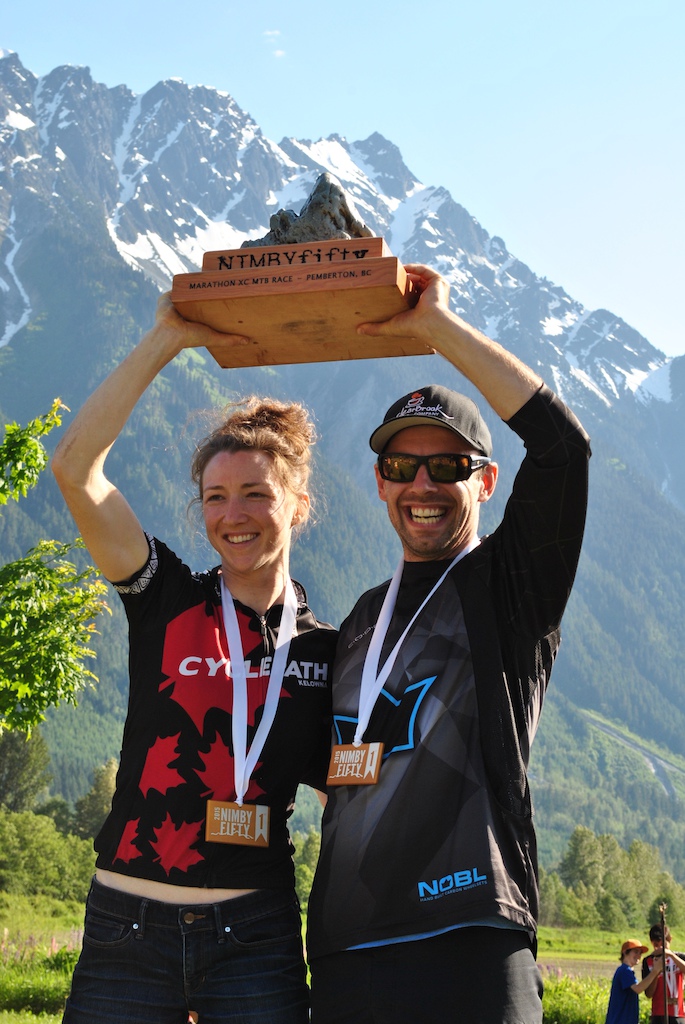 The King & Queen of NIMBY Fifty 2015 - Stacey Smith & Ricky Federau
As temperatures continued to climb, reaching 30C in some areas of the valley, riders battled climbs, cramps, each other, and the voices in their heads which begged for mercy from the relentless nature of the course. By the end though, after some sweet descending and a few hours in the forest, relaxing on the lawn at North Arm Farm with a Muskoka beer in hand and a plate full of delicious food cooked up by The Collective Kitchen, stories of both victory and defeat were shared and there was nothing left to do but smile, smile, smile.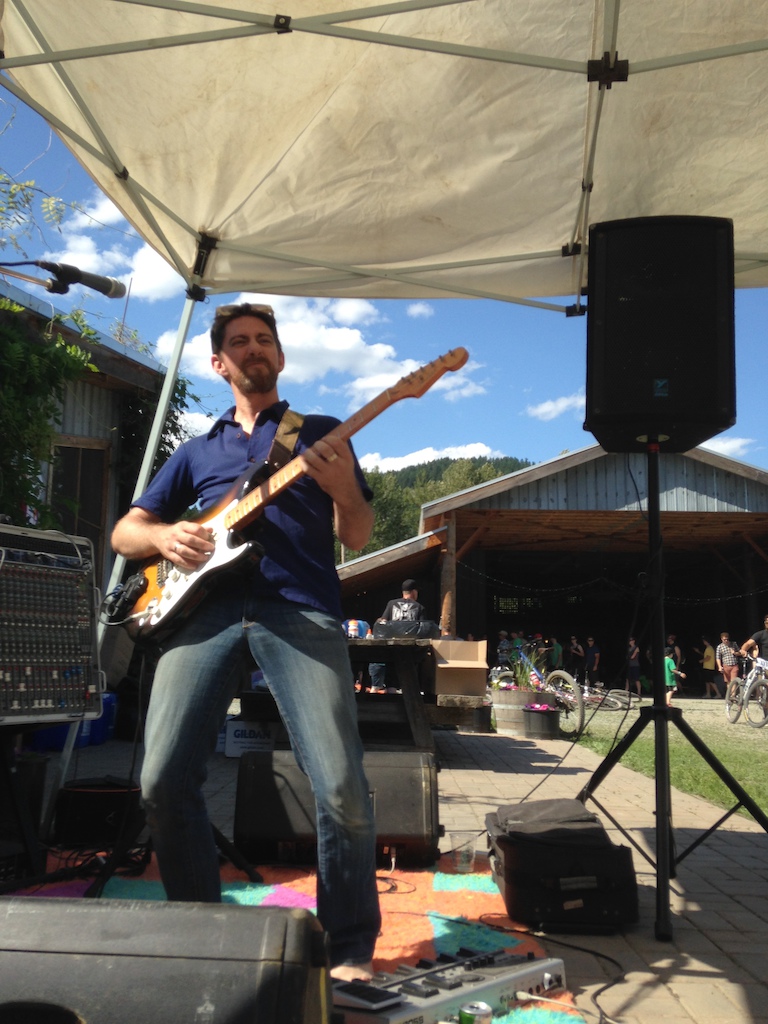 Papa Josh has provided the musical component of every NIMBY Fifty since year one. No bike race is complete without a good party.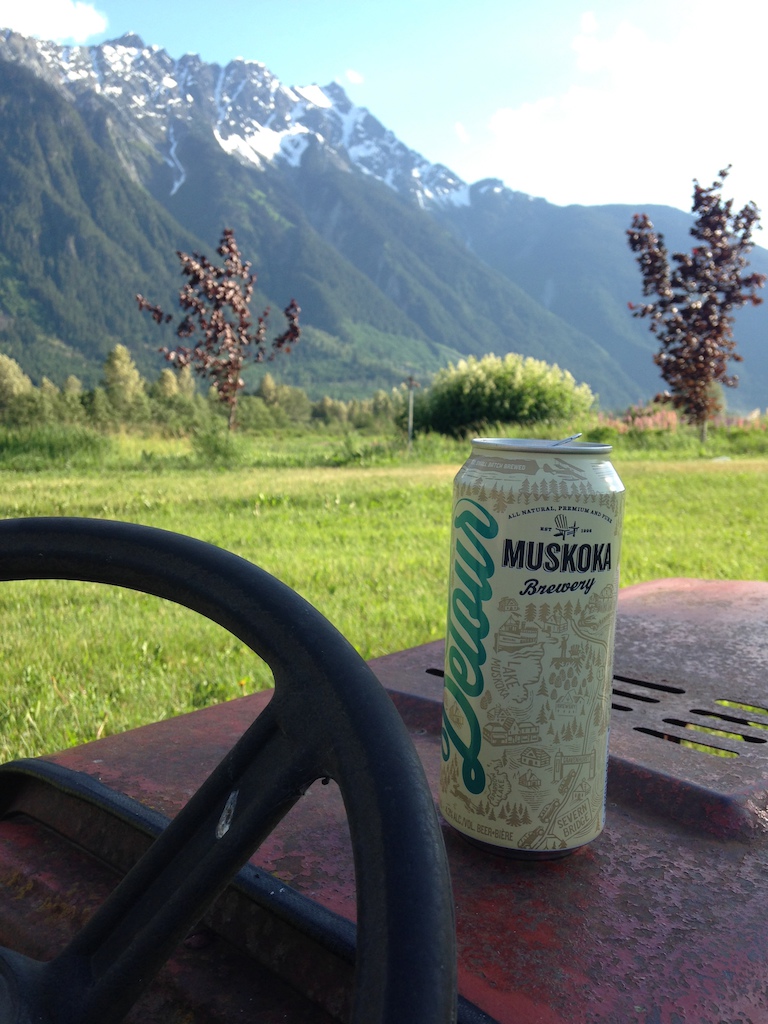 All the ingredients for a good day of bike racing
For complete race results, visit:
nimbyfifty.com/race-details/results/
Stay tuned for a race wrap-up video by Connor Macleod and visit
facebook.com/nimbyfifty
for links to more photos.